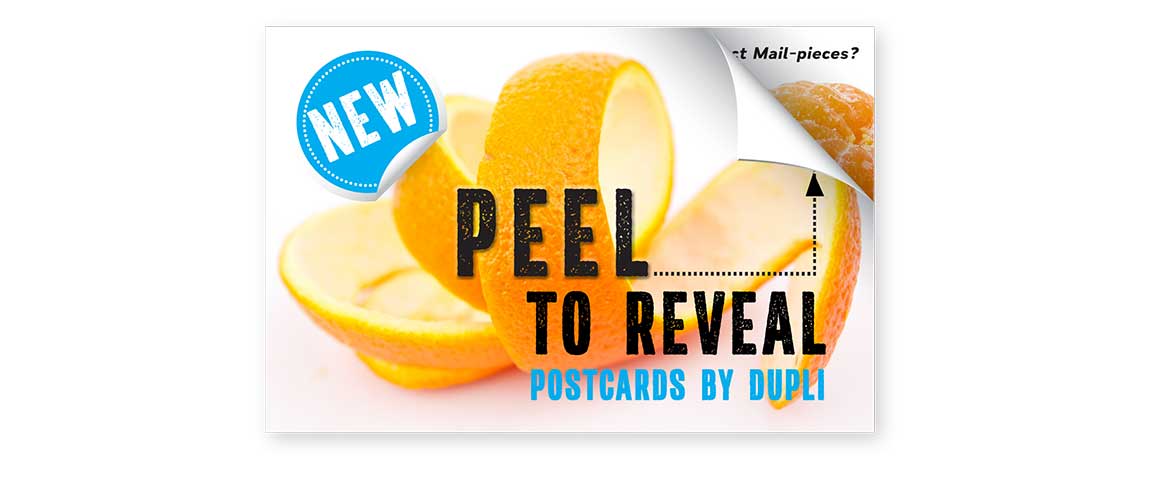 Dupli's new Peel and Reveal Postcard is a unique, engaging, and cost-effective marketing mail-piece to implement into your next direct mail strategy. Your customers will be engaged from the start and they will find it hard to resist peeling back the front sticker to reveal your offer underneath.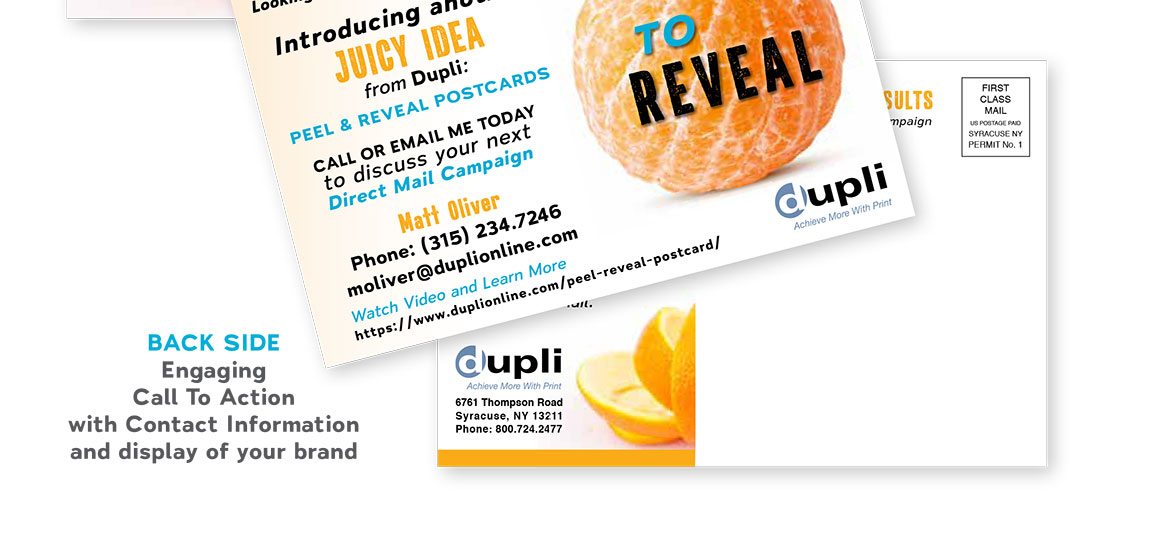 Peel & Reveal Postcards
5.5" H x 8.5" W


PRODUCT SPECIFICATIONS
• Front Side (Peel-back Sticker) - Printed Full Color
• Postcard Base Sheet - 100 Lb Gloss Cover
• Printed Full Color 4/4, double-sided
• Variable Printing Options


PRICING
Call your sales representative for pricing.
If you are not sure who that is, call Carol Ruoff today at 315.565.3476

SAMPLES


REQUEST QUOTE
Questions? Ready to Place a Peel & Reveal Postcard Order?
Call your sales representative.
If you are not sure who that is,
call Scott Brement today at 315.234.7298
Looking for something NEW? Check out Peel and Reveal Postcards, another juicy direct mail idea from Dupli. Make your direct mail marketing and brand memorable! These postcards are 5.5" tall by 8.5" wide with a front side peel-off sticker and a postcard base sheet printed on 100# gloss cover stock. This item comes printed 4-color process, double sided. The postcards allow for you to do effective marketing showing a before and after or are great for revealing discount codes of coupons to your customer base. Additionally, variable printing is available.
To learn more or order this item, contact us at sales@duplionline.com or 1-800-724-2477 and we will be happy to help!